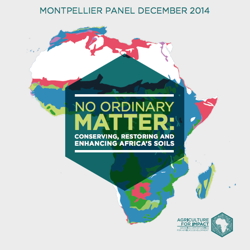 The Challenge: The Montpellier Panel seeks to influence European donors on effective ways to support poverty reduction in Africa through investment in sustainable agriculture. Its bi-annual reports provide evidence and analysis of key topics such as soil management, climate change and innovation. To reach beyond the scientific community, and demonstrate the value of investing in agriculture for wider development strategies.
Our Approach: We recommended partnering with key stakeholder the International Fund for Agricultural Development to host a launch event at the United Nations in Rome on World Soil Day. The report was released to journalists under embargo, and the expert authors were pitched as key commentators on the topic of Africa's declining soil health, which we positioned an essential issue to be addressed during the International Year of Soils.
Outcomes: The report was covered by 30 media outlets, including four separate interviews with the BBC and an opinion article by Sir Gordon Conway on The Guardian's Global Development site. Global outlets such as Reuters and Financial Times: This is Africa interviewed panel members, as well as national newspapers in Africa, such as South Africa's Mail & Guardian.