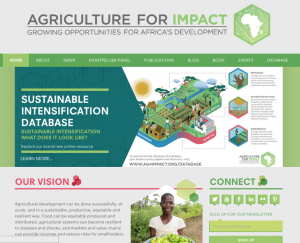 The Challenge: About 80% of African farmers work on small plots which perform at only a fraction of their potential. Yet African agriculture holds vast potential to feed the continent's growing population and fuel its economy – if given the right support.
Our Approach: Agriculture for Impact, under the leadership of Professor Sir Gordon Conway, is an independent advocacy initiative based at Imperial College London that aims to enable better European government support for productive, sustainable, equitable and resilient agricultural development in sub-Saharan Africa, focusing in particular on the needs of smallholder farmers.
Outcomes: The Marchmont team has worked with Agriculture for Impact to develop and execute a communications strategy including planning and messaging workshops; research and writing; grant-writing support; and a complete redesign of their visual identity, including a new website and online database. We have also helped them secure hundreds of pieces of top-tier media coverage for their report launches, which have informed policymaking in the UN, European Commission, France and the UK, as well as the African Union over the years.