The Challenge: UN Secretary-General António Guterres called for a "Food Systems Summit" to take place in 2021 as part of the Decade of Action to achieve the UN's Sustainable Development Goals (SDGs) through accelerating the transition to healthier, more sustainable and more equitable food systems.
Marchmont Communications was tasked as the official retained communications agency of this first-of-its-kind UN Food Systems Summit, providing strategic communications, media and social media outreach support, which included:
Positioning the Summit as an inclusive and engaging year-long consultation process, not just a one-off event;
Promoting food systems transformation as a key route to achieving the SDGs;
Mainstreaming stakeholders' understanding and use of the term "food systems", which captures a broad sector including agriculture, food, climate, environment, equity and economic development among others.
Our Approach: To achieve these aims, Marchmont developed an evolving, multi-channel strategy over the course of 18 months, which included:
Creating a drumbeat of engagement and awareness through both regular media outreach and management of the UNFSS social media accounts ;
Developing and launching targeted campaigns around strategic moments in the Summit process as well as in the external UN agenda, such as report launches and international events;
Developing and sharing original digital assets including sophisticated multimedia packages of customised vox pop videos, GIFs and graphics;
Conceptualising and executing digital preview events including a virtual "media world tour", and a 24-hour global relay conversation;
Providing on-site press office and social reporting support (overseeing a team of 11 people) at the pre-Summit in Rome in July 2021, including managing media registrations;
Providing virtual press office support at the Summit in New York during the UN General Assembly in September 2021; and
Establishing a legacy for the Summit, its achievements, and its contribution to the sustainable development agenda, including through retrospective social media audits and a celebratory #FacesOfFoodSystems campaign.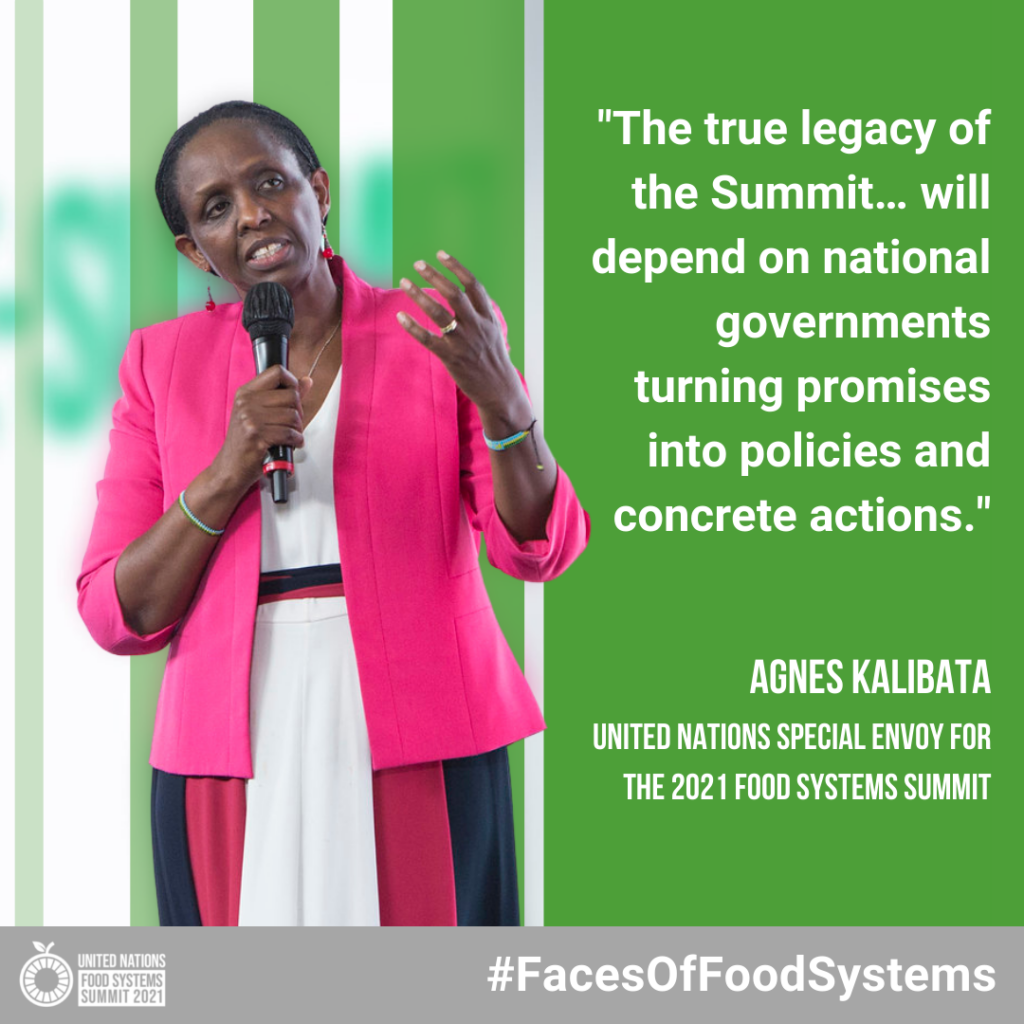 Outcomes: Marchmont helped to elevate public awareness and dialogue around "food systems" in support of the Summit process.
The media outreach produced more than 8,000 articles and pieces mentioning the Summit, including:
Coverage from international outlets such as Associated Press, BBC Radio 4, The Guardian, Reuters, TIME Magazine and Xinhua among others.
More than a dozen opinion pieces by Dr. Agnes Kalibata, the UN Secretary-General's Special Envoy to the 2021 Food Systems Summit, senior officials and key participants in the Summit, such as Ertharin Cousin, Executive Director (2012-2017) of the UN's World Food Programme (WFP), Dr. Kanayo Nwanze, President (2009-2017) of the UN's International Fund for Agricultural Development (IFAD), Mayor Giuseppe Sala of Milan, UN Food Systems Champion and Chair of the Milan Urban Food Policy Pact, and Gerda Verburg, Coordinator of the Scaling Up Nutrition (SUN) Movement and member of the Food Systems Summit Advisory Board (for example, the Independent, Nature Food, Quartz, Daily Telegraph, The Hill, Thomson Reuters).
Widespread coverage in non-English media, including Spanish-language coverage in EFE, Arabic-language coverage in Al Eqtisadiah, French-language coverage in Le Monde, and Italian-language coverage in L'Espresso, SKY TV, and La Repubblica.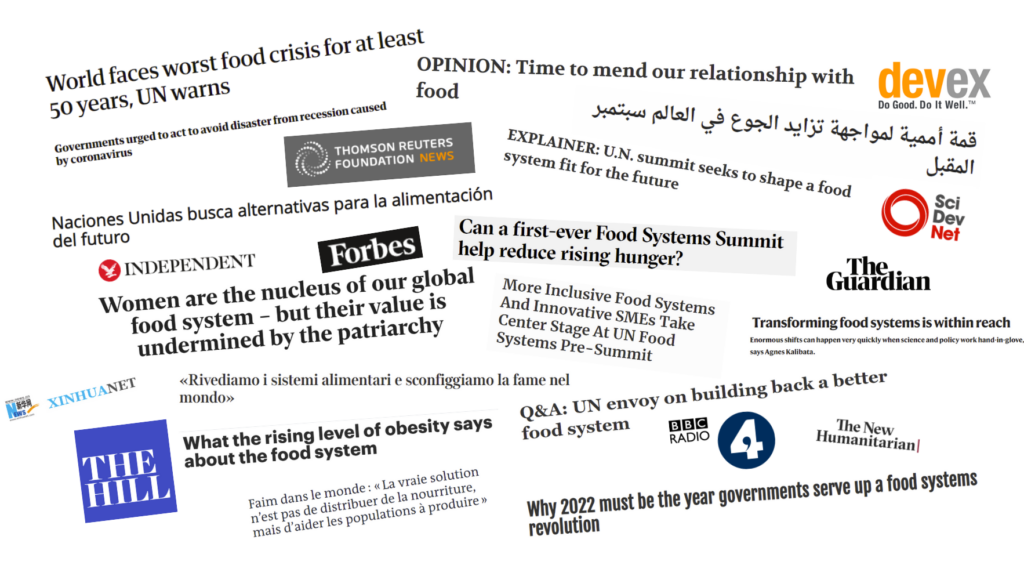 Over the duration of our outreach:
Overall, average monthly mentions of the term "food systems" nearly tripled when comparing the first and last month tracked.
On a yearly basis, overall mentions of the term "food systems" increased by 50% when comparing 2020 and 2021.
Social media had a potential reach of 2.5 billion people over the period tracked and online media coverage had a potential reach of 202 million people over the same period.
On a yearly basis, total reach increased by 46% when comparing first to second year of data period (broadly 2020 and 2021). The Pre-Summit and Summit both had a potential reach of 230+ million people.
The top phrases used on Twitter include "sustainable", "people", "global", "health", and "climate". This fits into key narratives promoted by the UNFSS – including around the idea of a "People's Summit" and the cross-disciplinary focus of food systems on broader sustainable development.